Maclean's is a bi-weekly Canadian magazine covering topical issues. this issue came last week and tonight i scanned the related articles, because they are very discussion worthy. basically there's this idea that starving yourself in a 'healthy' way can help you live longer - Micheal Rae (on the cover) is at a BMI of 15.6.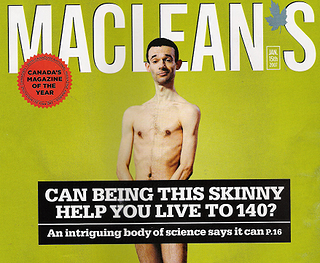 my apologies for the semi-blurry scans. they're still legible! (click on thumbnail and AGAIN on image for best quality)

Interview With Michael Rae
(pages in chronological order)



Related Article (covering the science of it)



thoughts, reactions, ideas welcome!